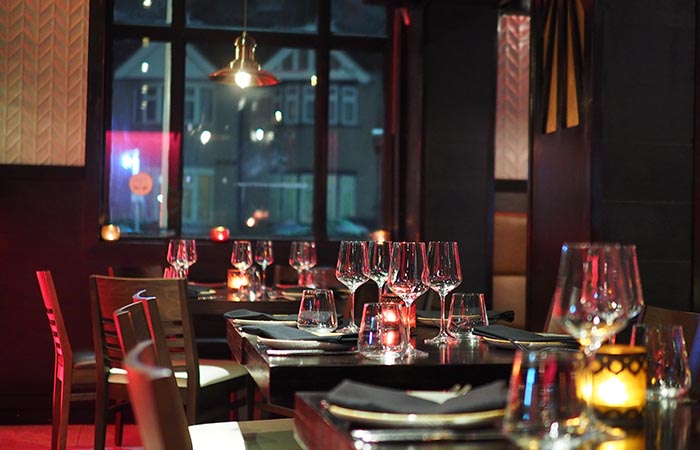 One of the many reasons our Balham Home Removal customers enjoy living in the area is because there are so many restaurants! Many are located on Balham High Road on either side of the Railway Station. However, there are plenty more situated on Bedford Hill which runs between the A24 and Tooting Common Lakeside Park, as well.
Some of the restaurants in Balham are fairly standard for Southwest London. For example, you are never far from a Nando's, a Pizza Express or an American burger chain. However, there are some culinary delights that are much more noteworthy. What should people who have just moved to this part of the capital expect when they first dine out?
European Cuisine in Balham
Firstly, there are plenty of restaurants in Balham that cater to European tastes. A fine example is Meze Mazis, a reasonably priced Greek eatery that is smart despite the taverna-like atmosphere. Here, you will be able to enjoy anything from lightly-fried calamari to a delicately grilled sea bass. Bucci, situated on the High Road, has a similarly relaxed feel. This independent restaurant in Balham serves Italian food. The scaloppina ai funghi, or veal escalopes in a creamy mushroom sauce, is a particular favourite.
If you are looking for fine French dining close by, then a walk up Balham Park Road toward Chez Bruce is recommended. Facing Wandsworth Common, this place has a Michelin star. The restaurant has an excellent cellar but if you want to bring a bottle of your own for a special occasion, then you can at a cost of £30 corkage. A little closer to the heart of Balham is Megan's on the Hill. This place serves some superb cocktails and a range of what can best be called Mediterranean cuisine each day from 5 pm.
Exotic Restaurants in Balham
Nepalese food lovers will love Balham because one of the best restaurants in Balham serves just this cuisine. Gurkhas has been serving fine Nepalese dishes for almost two decades and people travel from far and wide to enjoy it. Michel Roux Junior even wrote in the Guardian that the chef there can make Peshwari naan line nobody else.
Tagine Restaurant in Balham, just off Bedford Hill on Fernlea Road, is often billed as a Morrocan-themed eaterie. However, there is much more to it than that. The menu includes dishes inspired by a range of North African cuisines. Not far away, on Balham Station Road, is Thali and Pickles. This place may often be underrated but it serves excellent Indian food.
Balham's Glorious Gastropubs
Want a pub that serves good food? If so Balham is for you. Most of the pubs will offer some good pub fayre. However, of particular note is Brother Marcus. Situated on Chestnut Grove, it serves great brunches. This is a good place to head on the weekend for a relaxed atmosphere. Equally, the Devonshire, on Balham High Road, provides a strong menu. Best known for its impressive burgers, you can also get lovely roast dinners there on a Sunday. There's a good children's menu, too. It is much like the adult one only with smaller portions on offer.