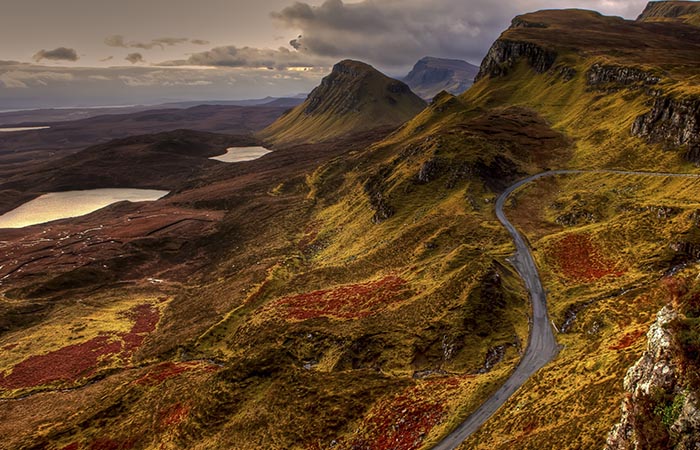 The landscapes are beautiful and the house prices are a fraction of the prices of those in London. Moving to Scotland might be your dream come true. Thick with cultural heritage and surrounded by strings of island archipelagos, Scotland has a lot to offer the everyday Londoner. What is involved in moving to Scotland?
Scottish culture is very distinct from the rest of the UK. Most Scots are justly proud of their heritage whether they support independence or would like their country to remain in the union. Therefore, moving to Scotland from anywhere south of the border will mean experiencing a different political and social culture. Some people find this to be one of the most exhilarating things about moving to Scotland, of course. There's so much to see and do that you might not have been exposed to before.
Lifelong Londoners – or at least people who have lived and worked in the capital for a number of years – are often used to embracing new cultures. London is incredibly diverse, after all. So, even considering the many changes a move to Scotland would mean accommodating, Londoners are one of the best groups of people to make a go of it. What should you bear in mind before moving?
The Benefits of Moving to Scotland
Property prices in Scotland are cheaper than in London. In the countryside or in small towns and suburbs, house prices are very affordable. For £300,000 you can get a six bedroom house. Even in Edinburgh, where house prices are among the highest, the average asking price is around £265,000. This compares to well over half a million in London.
However, moving to Scotland is not just good news from the point of view of property prices. You can also expect the Scottish government to cover undergraduate tuition fees. This is worth knowing if you have children who are likely to want to go to university, of course. It is also worth thinking about if you plan to start a family at some point.
Then, there is the reduced crime to consider. Scotland isn't crime-free but where is? Nevertheless, if you compare crime statistics north of the border with London, it wins every time. Another thing worth bearing in mind is that Scotland does not charge prescription fees. Okay, this might not be an important consideration today, but it could be one day.
Which Lifestyle Changes Can You Expect After Moving to Scotland?
On the whole, Scots are welcoming of people who have made their home in the country. However, there is no denying that understanding some of the stronger accents is tricky for some people at first. You won't have this problem anywhere in the borders region or centres of high population density, however.
Clearly, Scotland is a very beautiful country, full of lochs, mountains and wonderful coasts. However, its topography also makes it hard to get around. Roads zig-zag their way around the highlands and lowlands. Trips you might think will be a few minutes by road can take much longer. In winter, roads often become blocked and are unpassable.
Then, there is the question of rural connectivity. If you want to live outside of a city, then Scotland has in some instances patchy 4G internet services, especially the further north you go. If the idea of working from home in a rural idyll appeals, then figuring out if this will be technically possible before moving is a very good idea!
Get packed early
First of all you need to find a competent moving company. You can find plenty of moving companies who can help you move to Scotland on the internet. Even if they don't say so explicitly, you can call them and check it out and get a removals quote. The process would be the same as any other move, so make sure to read a good quality removals checklist.
You will need to tell the companies who provide your energy you are moving and find out if they still provide energy in Scotland. If not, start finding out more about that. Tell the local council you're moving and notify the local authorities in the area of Scotland that you want to go to that you are moving there. This will make sure nothing unfortunate happens later on, it's always a good idea not to confuse the council. Assuming you're based in London, you have a long drive ahead of you. A long-haul drive means that you will want to hire a professional packing service in London in order to ensure your goods travel well. Get some premium quality cardboard boxes and get in touch with the removal company you have selected to come and pack it all up when the time is right.
Depending on the size of the relocation, you might need either a man with a van or a moving truck. Either way, make sure you arrange all of this well in advance. Assuming you've already signed documents for the new place, north over the border, you can get the moving process underway.
There is a certain rustic appeal to the countryside in Scotland. Much of it is still untouched and kept as areas of outstanding natural beauty. Many stone lighthouses from hundreds of years ago still stand on the coastline. Many castles from the medieval period still stand amongst the hills. Scotland is the perfect place for the outdoors types, since it has huge expanses of hiking land and mountains to climb, and is obviously famous for its open water, whether it is the mysterious lochs, wide coastlines, island formations or deep, cool rivers.
Practical Considerations When Moving From London to Scotland
Moving to Scotland means embracing real change, especially if you opt for a rural lifestyle after having lived in London. Do your research before bidding on properties in your chosen area. Although buoyant, the Scottish property market isn't as free-flowing as the one in London so selling again may not be as easy as you might think.
When you do move, ensure everything you need is going with you. It is a long way to head back, after all! That's why booking a top notch removal company like Volition Removals can be so helpful, of course. Take a look at our house moving checklist for everything you'll need to do in the run-up to your relocation.