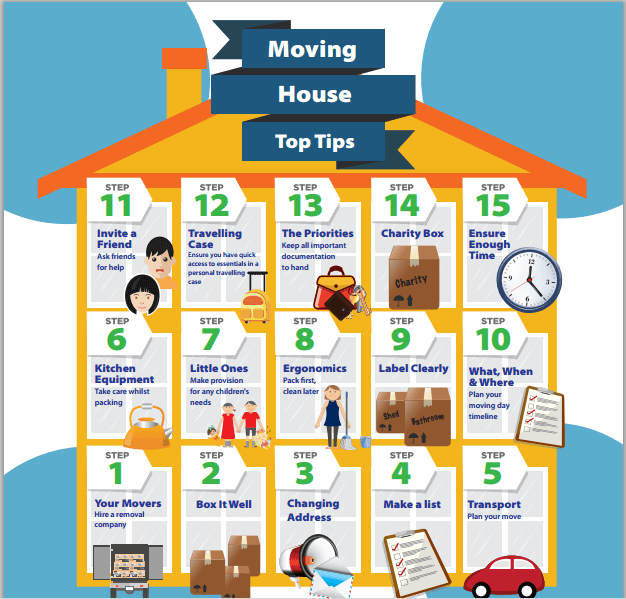 Moving House Top Tips
If you have a home move in London planned, you may be feeling anticipation or even excitement, or even a daunting feeling. Here, we suggest a moving house checklist with fifteen important points, to help things go smoothly. With some prior preparation and planning, we can minimise the uncertainty and possible stress by managing the move well.
Your movers
1) Speak to a reliable removal company who, apart from taking the physical strain out of moving, will also be able to offer advice with packing and logistics. Discuss and agree your requirements and obtain an estimate or quotation.
Box it well!
2) Obtain a supply of strong, reliable cardboard boxes. Those supplied by specialist home movers are designed to prevent damage. It is best to avoid recycled or second-hand packing materials – they may fall open at an inconvenient moment and scatter belongings (or breakages) everywhere!
Changing address
3) Remember to change your address with utility companies such as electricity, gas, cable, phone etc. Meters will need to be read or appointments made, so be sure to allow sufficient time. Bills that are due at the old home will need to be paid. Do remember to amend your home insurance, so you are covered in the new property.
Make a list
4) With so many things to remember such as people and organisations to contact – deliveries, day care for children and so on, lists come into their own. If the old house is for sale or to be handed over to a rental agency, you will probably need to organise the cleaning – or contract it out. Keeping a list and crossing items off as each one is completed will reassure you of progress – and give you a sense of achievement.
Transport
5) Travel arrangements between the two homes should be considered. If long distance is involved, vehicle servicing is important so the journey goes well. Check the tyre pressures and refuel beforehand, to avoid extra tasks on removal day – allowing you to concentrate on the move itself.
Kitchen equipment
6) Kitchens are often the least straightforward area of the home, with implements and appliances of different shapes, so their contents are best packed first (except essentials for the day itself). Keep the necessary minimum available to eat and drink – and for when you arrive in your new home. Before moving, eat up as much food as possible, especially perishable items.
Little ones
7) If moving with children, keep their clothes together with any feeding mugs, bottles and a few toys to amuse them for a while. Take good care of pets too – consider the services of a pet sitter as well as a babysitter or childminder.
Ergonomics
8) A well-organized approach does not involve 'clean as you go' – this is not efficient. Many people find that doing the packing and loading and then cleaning at the end avoids repetition, walking on wet floors and scattering new dirt. Also, why not get somebody to help, if possible? This minimises extra work after a tiring day of moving.
Label – visibly
9) Boxes should be labelled with the room where they will be going, preferably with a summary of the contents too. If you have time, label boxes twice (or more) on opposite sides, so the contents listing are visible at a glance, without needing to turn them. A giant marker can be used and even stickers, colour coded by room.
What, when and where
10) Items that are used infrequently can be packed first and loaded into the removal van first – this way, they are unpacked last. Valuables and antiques or fragile items should have special treatment – in a smaller means of transport of the day if possible, such as a car or small van, not in the main truck. Reserve a safe corner in the new home to keep these delicate items safe.
Invite a friend?
11) Clearly, it is best not to impose on friends. Nonetheless, if you feel that it is appropriate within the friendship, you could always consider turning the 'big move' into a type of special event. Perhaps a number of friends could be invited to help for an hour or two, in return for something to eat and a few drinks – especially afterwards!
Travelling case
12) On the day of the move, you will need a box or bag with cups, mugs, utensils and plates along with cleaning and bathroom supplies and perhaps a change of clothes, in addition to food snacks and drinks as well as rubbish bags. These items could be put in a suitcase for convenience and easy recognition on actual day, to keep everything close to hand.
The priorities
13) Importantly, check you have your driving licence and wallet or purse to hand, as well as the keys to the new home. After your move you will be tired, quite understandably, so make sure that bedroom items and toiletries can be unpacked first to freshen up and rest later. Priority number two closely follows this – the kitchen items we mentioned earlier.
Charity box?
14) When unpacking we sometimes notice surplus items that we are probably never going to use. Although this 'filter' or sort-out is best done at the packing stage, one or two (or even more!) items often escape our notice until we come to unpack. If you notice surplus or unused items, you could keep a box of items earmarked for a future yard sale. Often, however, such boxes end up being stored almost indefinitely! It is for this reason that many people decide to give such items away to a deserving cause or charity, as a job lot.
Allow enough time…
15) Allow extra time in addition to preparation, packing, loading, travelling to the destination and then unloading and unpacking the essentials. Time usually seems to fly by when we are busy on these days and so an extra margin should be planned. More haste, less speed! It is best not to try to impose over-ambitious and unrealistic timescales as this could cause frustration and unnecessary complications, especially if there are mishaps or the unexpected crops up.
If you are looking for a reliable, established home removal company in the London area with professional staff who know how to make your move happen, carefully and efficiently, please contact us. Volition Removals is a professional agency, dedicated to helping your move go smoothly. We will be delighted to help with advice and reviewing your moving house checklist. Estimates are without obligation and free of charge. For further information or to arrange an initial appointment, please call us on 07885 609 699
Source:
www.primelocation.com/discover/moving-home/moving-checklist/
http://www.rightmove.co.uk/resources/property-guides/selling-guide/preparing-moving-day.html
More Articles by Volition Removals